La Creciente, Colombia Gathering Station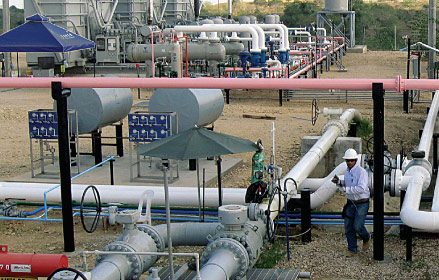 At A Glance
Company:
Pacific Rubiales Energy
Location:
La Creciente, Colombia
Year of Startup:
2009
Fuel:
Natural Gas
Application:
Natural Gas Gathering
Unit Description:
3 Ariel JGE/4
La Creciente is among the largest Colombian natural gas discoveries in recent years, producing an average of 65 MMscfd.
Pacific Rubiales Energy, the largest independent oil and gas exploration and production company in Colombia, needed a reliable gas compression station to meet distribution requirements for their customer. The equipment design had to accommodate variable operating conditions at the facility and allow for easy expansion to include additional compressors at a later date.
Pacific Rubiales installed three compressors, all Ariel JGE four-throw units. Two of these compressors are used as operating units, and one as a standby unit capable of an immediate startup when needed. This ability to react quickly to changing conditions resulted in superior customer service and satisfaction. Furthermore, this flexible design makes it possible to rapidly install additional equipment to control gas dew point, improve hydrocarbon production, and meet gas quality specifications.