Ariel Hydrogen Compressors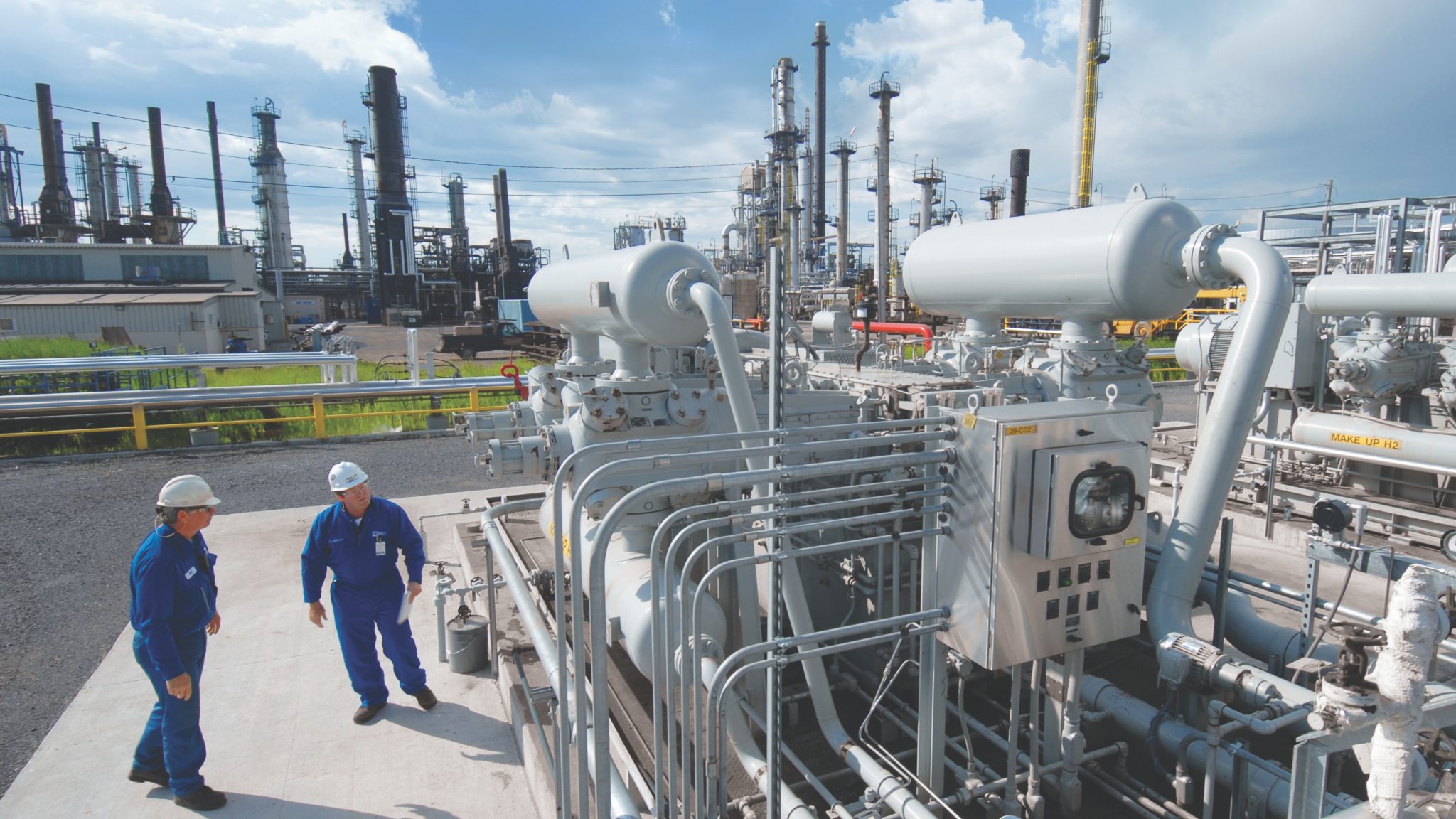 Ariel is your compressor supplier for hydrogen gas. Ariel is the largest manufacturer of separable, reciprocating gas compressors globally, setting the standard in quality, reliability, and customer support.
Ariel has been manufacturing world-class reciprocating compressors since 1966, having produced over 60,000+ compressors for use in upstream, midstream, and downstream applications worldwide. This includes over 150 hydrogen compressors and 500 hydrogen compressor cylinders.
Reliable hydrogen compression is crucial to refinery, chemical, and industrial gas plant operations. Ariel has provided a wide range of hydrogen compressors, ranging from 40-6,700 hp (30-5,000 kW) and discharge pressures up to 6,000 psig (414 barg). Ariel's decades of hydrogen compression experience, both lubricated and non-lubricated, find us well-positioned to meet the current and future demand for safe, reliable hydrogen compressors.
Designed to meet the reliability requirements of API 618, Ariel hydrogen reciprocating compressors are engineered for performance and reliability utilizing field-proven, pre-engineered components. Ariel's superior moderate-speed hydrogen compressors operate in comparable piston speed ranges to long-stroke, slow-speed compressors.
Ariel's extensive product line supports a wide range of hydrogen applications, including:
Hydrogen production
Hydrogen storage
Hydrogen pipeline
Hydrogen product, feed gas
Hydrogen makeup and recycle in the refinery of petrochemical applications
Hydrogen for semi-conductor production
Hydrogen for multiservice compressors for producing renewable diesel fuel
Hydrogen for GTL facilities
Hydrogen to manufacture syngas
Hydrogen vehicle fueling
Hydrogen for fuel gas booster
Customer Benefits
Ariel Reliability
Ariel's compressors are proven in the field. A recent 24,000-hour overhaul on two units at a refinery showed no measurable wear to the crossheads, crosshead guides, cylinder bores, piston rods, piston trim, or packing trim. The end-user made a decision to revise their inspection schedule to every 32,000 hours.
Comprehensive Warranty
Ariel offers the most comprehensive and generous warranty in the industry. Ariel's standard warranty covers 100% of your compressor for 12 months from start-up or 18 months from shipment. Your compressor's crankshaft, connecting rods, crankcase, crossheads, and crosshead guides are covered for 36 months from shipment through this warranty. In addition, Ariel offers an extended warranty if 100% Genuine Ariel Parts are used to service and maintain your compressor.
Comprehensive Product Training
At no cost to Ariel's customers, Ariel offers training in a range of familiar and newly created formats: classroom, in the field, online and international. Ariel welcomes our industry partners to experience training at our new world-class training center in Mount Vernon, Ohio.
Ariel Response Center (ARC)
Ariel understands that today's world is driven by the need for immediate and accurate access to information. This is why Ariel created the Ariel Response Center. With over 100 years of combined Ariel experience in Assembly, Genuine Ariel Parts, and Manufacturing, ARC's sole purpose is to assist Ariel's customers with compressor reconfiguration, operation, and maintenance issues.
Mobile Apps
Ariel offers a variety of software and applications designed with our customers in mind. These offerings provide our customers with decision-support capabilities to maximize compression efficiency, performance, and reliability.
Ariel Smart Compressor (ASC)
The available Ariel Smart Compressor hardware and associated Ariel Fleet Manager software offer digital twin capability and are the next generation in compression monitoring, dynamic protection, diagnostics, optimization, and management.

Ariel Applications Engineering
Customers can rely on our engineers to help size an efficient compressor to meet the stringent requirements of hydrogen service.
Questions?
To learn more about Ariel hydrogen compressors, please contact Ariel Applications Engineering.