Ariel Serial No. 2 – Still Going Strong!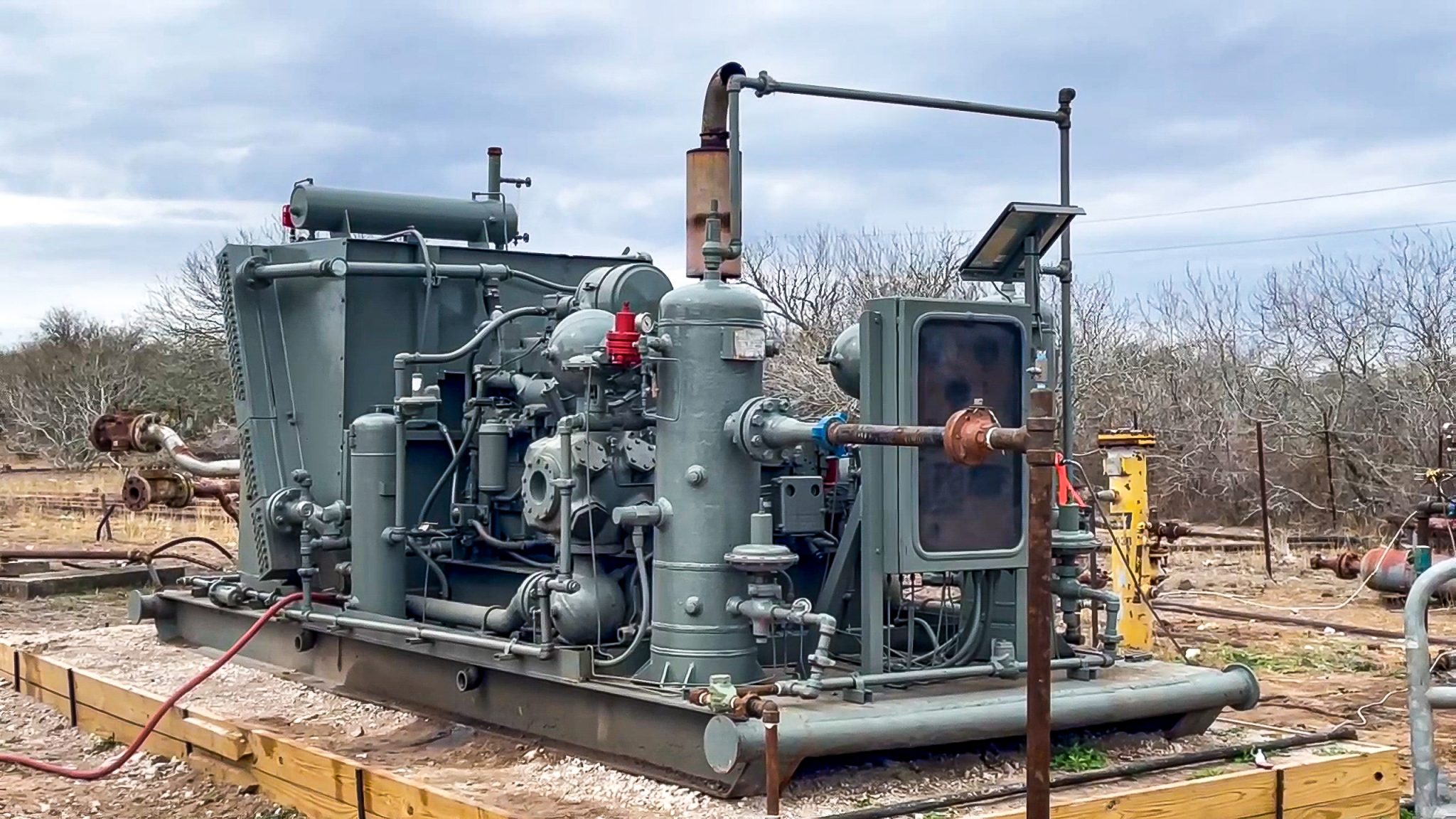 Serial No. 2 compressing gas in a field in Concepcion, Texas.
Milestone Compressor Discovered Producing in South Texas 
A milestone compressor from Ariel has been recently discovered producing, after 50 years, in south Texas. The Ariel Response Center (ARC) in Mount Vernon, Ohio, received a call from a south Texas compressor service company concerning an Ariel JG/2 top cover gasket. The gaskets they obtained didn't match the bolt hole pattern on the compressor frame they were servicing.  
When asked for a serial number, the owner could only find a "2" stamped on the frame casting. After receiving a photo from the owner, the ARC team compared it to Serial Number 1, from a compressor on display at Ariel's headquarters, and the unique bolt patterns matched.
"FRAME NO. 2 ARIEL CORP" hand stamped on the side of the frame – circa 1969.
The top cover bolt patterns for Ariel's first batch of compressors, produced in the late 1960s, had yet to be standardized. So the team deduced that the south Texas compressor might be Serial Number 2 – possibly a remarkable find. Both serial numbers "1" and "3" are on display at Ariel's headquarters and training center in Mount Vernon, respectively.  
Ariel ARC and Ariel's Inside Technical Sales representatives in Mount Vernon relayed the details to our regional managers in south Texas. The news was that a compressor frame with "FRAME NO. 2 ARIEL CORP" stamped on its side was still in operation. Theoretically, this was the second Ariel compressor produced.
Ariel records show that Serial Number 2 – the first Ariel JG/2 production model – shipped from Mount Vernon to Southern Engine & Pump Company of Houston, Texas, in 1969. The team was amazed to discover that the compressor was still "smashing gas" in the brushlands of southern Texas just north of the United States and Mexico – but they wanted more information and a visual identification.
The team tracked down the owner, Jeff Buss of Buss Mechanical Services of Edinburgh, Texas, to confirm the serial number on the frame. Ariel hadn't yet started the "F-" frame serial number designations, so the team wanted to view the compressor firsthand to confirm its authenticity. They traveled to Buss Mechanical and then to the compressor site in Concepcion, Texas.
Jeff Buss was about 16 when he started working for his uncle, the founder and then-owner of Buss Mechanical; his uncle purchased the Serial Number 2 compressor from Waukesha-Pearce Industries (WPI) of Corpus Christi. Buss Mechanical is a small third-party service company that occasionally buys used packages to lease to customers.
Fast-forward to the early 1990s; the package was updated with a new driver and also received other minor modifications. Apart from the engine, the package is a relic but, most notably, a testament to the longevity of Ariel compressors.
Jeff and his wife bought Buss Mechanical from his uncle in 2007, making them the second owners of the company. According to Buss, Ariel Serial Number 2 has been utilized around southern Texas for the past 35 years. He notes that the JG/2 compressor is his fleet's most reliable unit.
Jeff has nothing but praise for Serial Number 2. "It's not that hard (keeping his Ariel running). Just don't go over any limits of the package; give it plenty of lubrication, spring the valves correctly, and do your [preventative maintenance] on time, and it will last forever."
"Forever," possibly – but incredibly, the compressor has performed for more than 50 years and counting!
Serial Number 2, circa 1969, ready for shipping from Ariel's Mount Vernon facility.