Ohio's Capital Utilizes Ariel CNG to Reduce its Carbon Footprint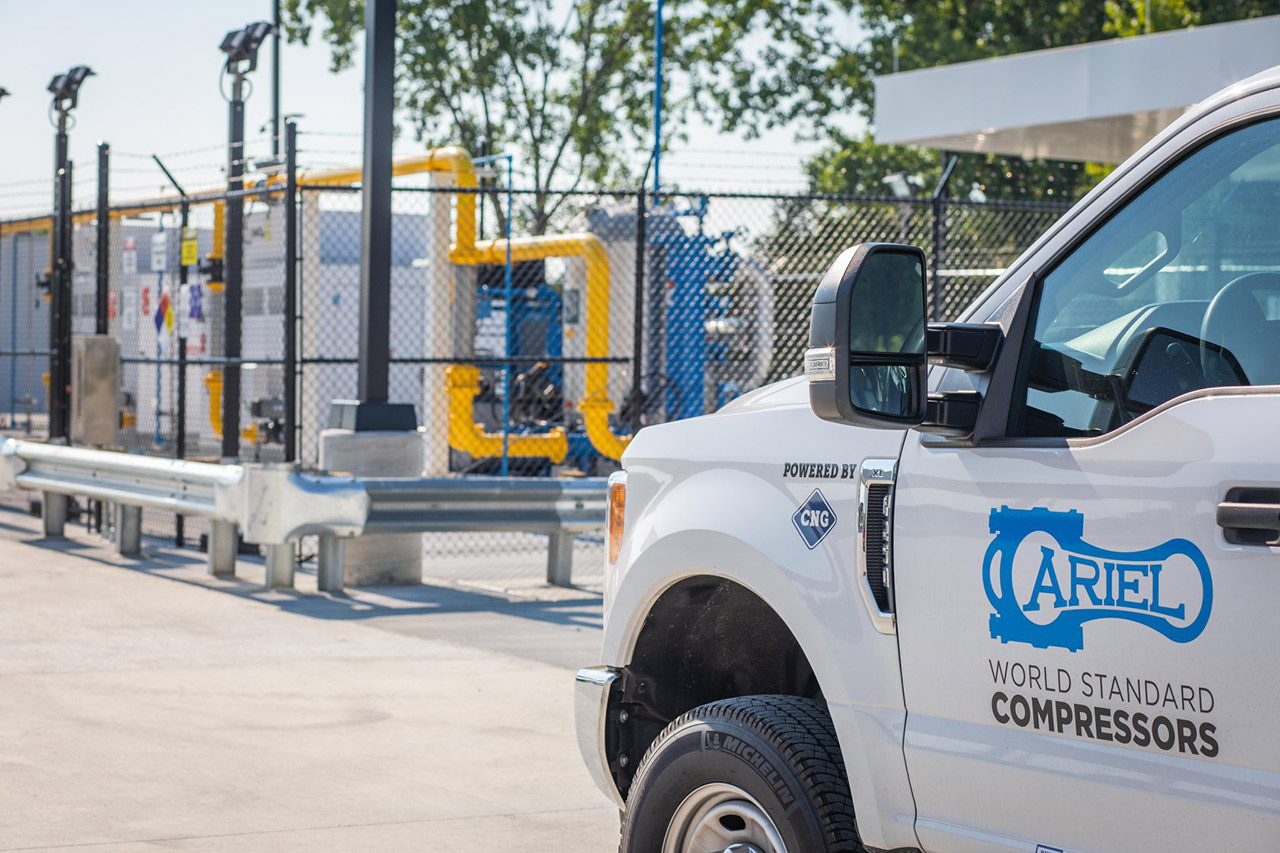 The City's CNG Fueling Stations are for Public Fleets, Private Fleets and Individual Use
The City of Columbus, Ohio, has opened its fourth public-use compressed natural gas (CNG) fueling station utilizing Ariel compressors on July 10th, 2018.  
The station cost $7.8 million to build. It is part of a $22 million investment in city funds and $1.5 million in grants to create Columbus' CNG network. The fast-fill station was built with every type of CNG car and truck in mind and is part of one of the largest city-owned CNG networks in the country.
The station, which uses several Ariel JGQ/2 compressors as part of ANGI Energy Systems packages, is an endeavor by Ohio's state capital to run more city vehicles using CNG to reduce the carbon footprint. Last year, the network dispensed the CNG equivalent of more than 900,000 gallons of gasoline-equivalent to not only its own vehicles but to outside entities that took advantage of their public-use facility. That total should go over a million this year with the addition of the new station.
Several stations have been strategically placed near refuse centers. The city has converted more than 200 of its 360 refuse trucks to run off CNG and is working to convert the rest. 
"We picked the lowest hanging fruit for the CNG conversion," Columbus Fleet Administrator Kelly Reagan said. "It reduces our time in and out fueling."
Columbus has 255 dedicated CNG vehicles. City Finance and Management Director Joe Lombardi estimated the switch to CNG saves Columbus taxpayers more than $3 million in fueling costs since 2010. 
Graham Barker, ANGI's Eastern U.S. Regional Sales Manager, said the CNG infrastructure could make Columbus a prime candidate for funding in the federal government's mitigation settlement with Volkswagen in the Clean Air Act settlement. 
"They are all designed for high flow and capacity," said Rob Adams, a Principal with Marathon Technical Services who worked with Columbus on bids for the station. "I don't know of any other city in the U.S. that has such an extensive network of high-capacity, public-access stations. They have four that are all set up to fuel large trucks."
The design of the Columbus network has made the city CNG-friendly. Most of the stations are close to highways and are all built to accommodate everything from the smallest CNG vehicle to 18-wheelers. 
Adams said Ariel compressors were picked not because of Ariel's proximity to Columbus, but because of the quality of the product and bid. Ariel's location is an extra benefit to the city but didn't play a role in the bid process. 
"Ariel is made here in Ohio, using Ohio labor, so that fits well for us," Reagan said. "That has helped from a training perspective and a parts perspective, it has helped tremendously to work with an Ohio-based company. With this being our fourth station and the last three being Ariel, it makes the city proud to know they are doing business with an Ohio-based company using Ohio workers."
City Of Columbus Opening of CNG West Fueling Station