Online Basic Product Training Now Available in Spanish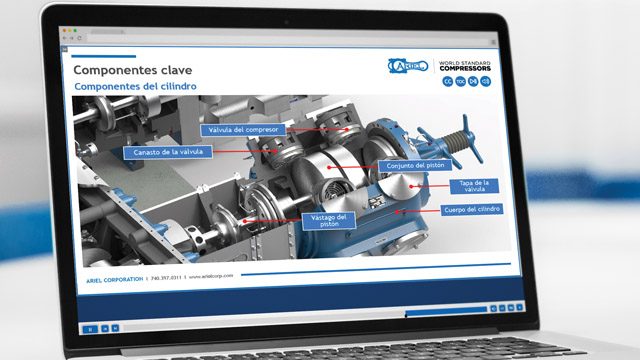 Ariel Corporation is pleased to offer our Online Basic Product Training, now available in Spanish. This brand-new translated edition delivers updates on new Ariel product offerings that are now standard on every compressor we ship. Updates Includes newly-upgraded compressor features and components, and we have also added additional information on some of our most popular manuals and technical documents.
The modules have been developed with enhanced graphics and animation, including three-dimensional elements designed to show better the functionality of working components of an Ariel compressor.
The 15-module course is available through Ariel Connect with a Members Only account. The comprehensive training is built to be completed anytime, anywhere using an internet browser. This online version remains the only option to earn a Basic Product Certificate without attending a Basic Product Training class. The certificate is a prerequisite for anyone interested in our mechanic's training and other training offerings.