Field Technician Degree Program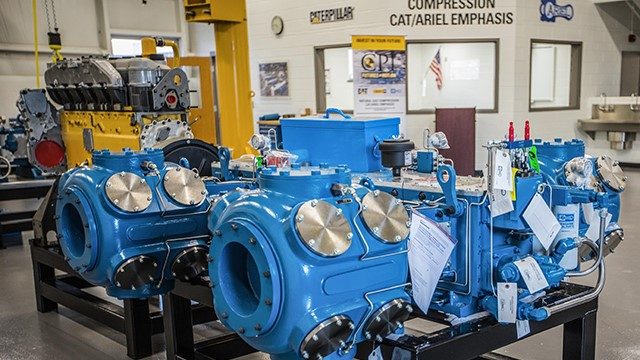 Ariel Corporation has partnered with Cleveland Brothers | CAT (with 25 locations throughout Pennsylvania and West Virginia) and the Central Pennsylvania Institute of Science and Technology (CPI) of Pleasant Gap, PA, to establish a world-class field technician degree program for the natural gas compression industry. The CPI program includes the utilization of a state-of-the-art engine and compressor lab at their Pleasant Gap Campus.
The partnership ensures that CPI students will have access to the latest technology and the newest equipment available in the compression industry. After completing the two-year Natural Gas Compression Program, CPI graduates will be well-prepared to serve the growing industry.
The CPI program has been specially designed by industry experts to produce field technicians to meet global energy market demands by offering it to early high school graduates and technical school candidates. Enrolling in the program can be a great way to start a new career path for young graduates. The program also welcomes current and former members of the military and accepts the GI Bill®.
During the program's duration, students will become knowledgeable mechanical technicians and be able to execute the following tasks at a minimum:
Disassemble/assemble components
Perform maintenance activities
Accurately test, adjust, and troubleshoot CAT and Ariel equipment.
The Natural Gas Degree Program encompasses hands-on training courses in the compression industry and offers a two-year associate's degree in Specialized Technology upon graduation. The program is conveniently located in the Marcellus region – where much opportunity lies for future employment in the industry. After graduation, program graduates will gain further experience working with the Ariel, Cleveland Brothers | CAT networks, as well as further their knowledge on those operations, to prepare and place trained graduates in a rewarding career.
Graduates will excel in some of the best, top-paying, sought-after, and enjoyable career opportunities in the industry. Some career opportunities include, but are not limited to, oil and gas field technician, field service or maintenance technician, shop foreman, and countless other opportunities.
For more information on how you can take the next step toward your future in the industry, visit www.cpi.edu/programs/natural-gas-compression, or call 877-359-2793 to learn more and register today! Due to COVID-19 implications, students may continue to register up to the start date of the fall semester – August 24, 2020.